Star Maa Channel's popular reality series Ishmart Jodi 2 has come to an end with a grand finale. The final episode of Star Maa Channel Ishmart Jodi 2 will air on Sunday, 15 May 2022. The Ishmart Jodi, an entertaining fun show that has been a big hit with the audience, is now a huge success. Ohmkar hosts the Ishmart Jodi 2. Ohmkar was also the host of Ishmar Jodi season 1.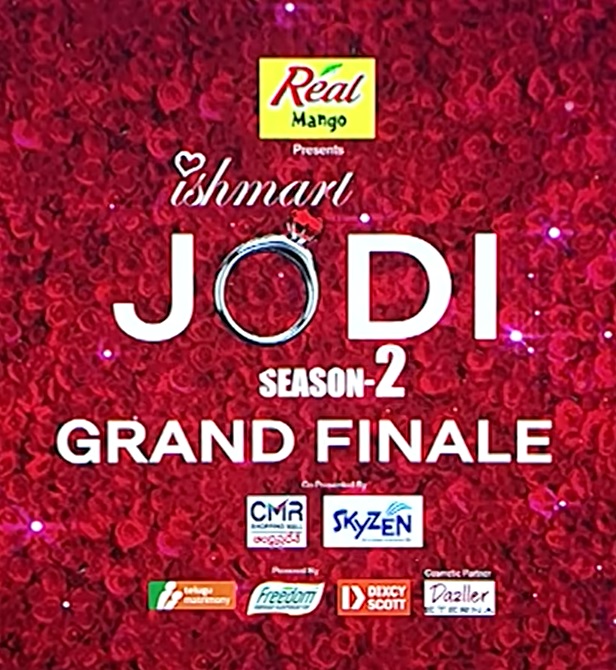 On 26 December 2021, the second season of Ishmart Jodi began airing on Star Maa channel. The episodes were telecast every Saturday and Sunday at 9.00 pm. Star Maa Television's celebrity couples are the contestants.
In the Ishmart Jodi 2, there were twelve pairs. Everybody is eagerly awaiting the winner of this season's title trophy. Prize money worth Rs 25 lakh will be awarded to the Ishmartjodi 2 winners. Fans are eagerly awaiting the final episode of the Ishmart Jodi 2 grand finale. The promo videos have been released. You can also view the Ishmart Jodi 2 episodes on the Disney+ Hotstar website as well as the Disney+ Hotstar app. As the show has got huge number of viewers and fans we can expect the third season also in the furture. Below you will find the Ishmart Jodi 2 Winner Name 2022, Prize Money and Grand Finale Date and time.
Winners Ishmart Jodi 2
Here is the title winners name and runners up
Title Winners of Ishmart Jodi Season 2 – Harshita & Vinay
Runner-up of

Ishmart Jodi Season 2 – Amma Rajasekhar & Radha
Ishmart Jodi 2 Prize Money
The winners will receive a cash prize of Rs. 25 Lakh.
Ishmart Jodi 2 Grand Finale Date and Time
Grand Finale Date: 15th May 2022 (Sunday).
Time – 6.00 PM
Also Read
Promo Video of Ishmart Jodi 2 Grand Finale
Ishmart Jodi 2 Contestants List
Below is the complete list of contestants for Ishmart Jodi season 2.
Preethi Nigam – Nagesh
Baba Bhaskar – Revathi
Kaushal – Neelima
Amma Rajasekhar – Radha
Avinash – Anuja
Siva Reddy – Swathi
Kaushik – Bhavya
Maheshwari – Shivanag
Ek Nath -Harika
Lahari – Manikant
Harshita – Vinay
Vishwa – Shraddha